Summer Fiesta Parties her way to Fiber Fresh Series Win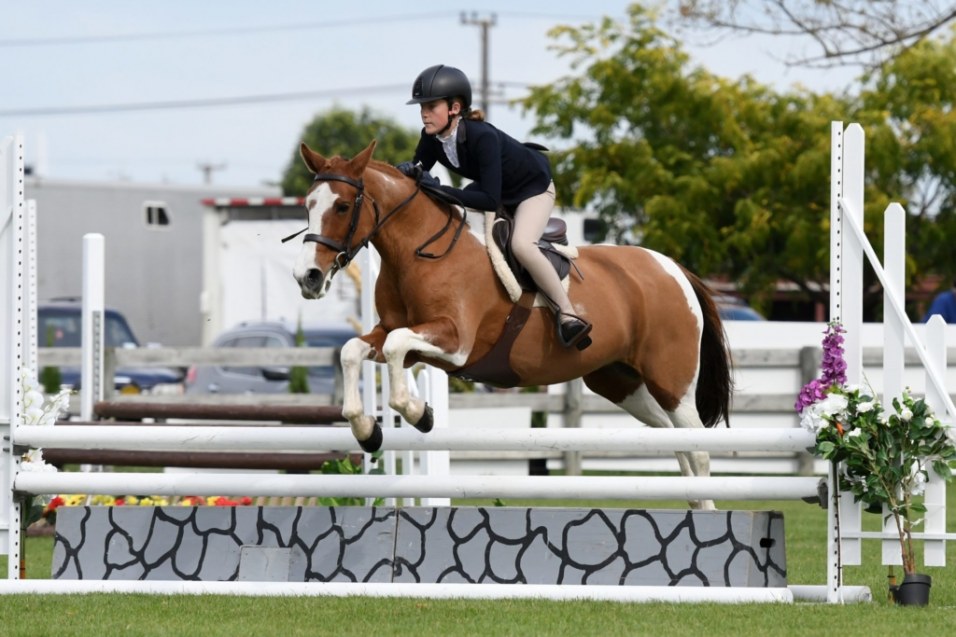 Emily Oliver and Summer Fiesta timed their run perfectly, hitting their stride towards the end of the season and in doing so, securing the Fiber Fresh Cat B High Points.

"This was definitely one of my goals for the season," said the 13-year-old from Peka Peka Beach on the Kapiti Coast. "I felt it was always the South Island ponies who took it out so I thought it should come to the North Island."

This is Emily's third season on 15-year-old Summer Fiesta and they have enjoyed plenty of success. "We had a couple of wins at the beginning of the season and then placings but really hit our stride towards the end. I think it is just getting out there and knowing her more and more each round."

The mare was beautifully produced by Georgie Wilson and has an amazing jump, according to her doting owner. "She is very careful and has good form. She is pretty easy to have around but very greedy – she just loves her food and especially Big Reds and pink smoker lollies." The season brings with it restricted rations for her.

"There were a lot of good ponies in our series so it is really special to have won."


Glistening Waters Showjumping Championships 2021, Solway Showgrounds, Masterton, Saturday, April 10, 2021 Copyright Photo: KAMPIC / Kerry Marshall

While Emily has done a little showjumping, she prefers show hunter. "It teaches you how to ride well. When I first started jumping it is what I took up and started doing well with, so I will just stay with it."

Emily is trained by mum Marcia who evented to advanced level and was also a B grade showjumper. Marcia is very proud of Emily's achievements.

"It has been amazing and such a special season," she said. Behind every good rider is a small village of supporters, and Emily is no exception. Her mother's parents are loving being back involved with the horse scene and her father's parents also help out by looking after four-year-old younger brother Max who isn't so fond of shows.

Younger sister Lucy is competing in Cat A this season and can't wait for Emily to give up Summer. The family lives just 500m from Peka Peka Beach, so Emily and Summer do plenty of fitness on the sand.

"This is a big achievement for me and I am very excited for next season," she said.

Emily and Summer Fiesta rounded out the season by also winning the grand final, ahead of Hannah McConnell (Tauranga) aboard Billy Blunt and Madison Cutfield (Auckland) with Hidden Warrior.



Results –

Fiber Fresh Cat B High Points Series: Emily Oliver (Peka Peka) Summer Fiesta 75 points 1, Ella Rouse (Gisborne) Ruby Tunes 56 points 2, Anna Smith (Wyndham) Starlight Smarda 56 points 3, Hannah McConnell (Tauranga) Billy Blunt 56 points 4, Vienna Wilson (Taupo) Ashbury Robin Hood 52 points 5, Harriet Baker (Gore) Moonspirit Jitterbug 40 6.