Twenty seven years never looked so young!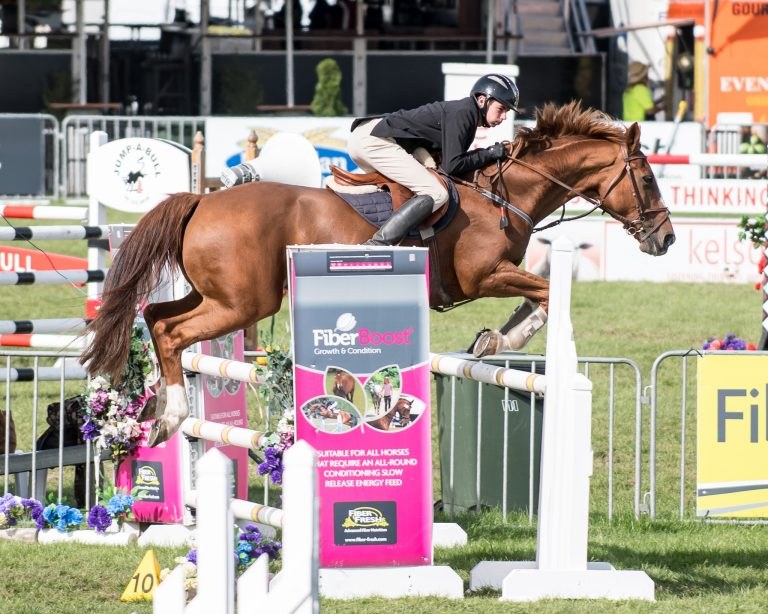 Image: Nash Jordan and Kiwi Buzz competing at Horse of the Year 2018. Photo Credit John Barnfield

Kiwi Buzz, a 27-year-old chestnut gelding, cantered around the 1.15m class at Horse of the Year making it look like a breeze. Nash Jordan, his current rider, attributes his tidy 7th place and the health of his horse to their use of FiberBoost®.

"Since changing to FiberBoost® we've noticed that Buzz keeps his condition better, has more top line and doesn't tuck up in the yards. When we're away he has more energy, but its manageable energy. He is already a strong horse who can be quirky at times, so we certainly don't need him being any hotter!"

"Buzz simply thrives on FiberBoost® and has gone from strength to strength in both his show jumping and dressage. It's often hard to believe he's 27 years old and we constantly have people commenting on how amazing he looks. They're always surprised to discover that he's not a selection of supplements and that his primary feed is FiberBoost®."

Bred by Fernhill Stud, "Buzz" was ridden through the show jumping age groups by Simon Wilson as well as doing the rounds in eventing before coming into the care and ownership of the Small family. Buzz became a member of the Small family, who valued him so much that Nash ended up having to audition for the ride on him over 3 weekend visits to Auckland as they wanted to make sure that he went to the right home.

Nash and Buzz have had numerous successes since becoming a team picking up wins and placings at 1.10, 1.15 and 1.20 show jumping, including a number of Championships. A highlight was winning the 1.10 Championship at the Central Districts Show Hunter and Show Jumping Champs, which was a hard-fought class in trying conditions.

Becoming solid allrounders Nash and Buzz have also been working on their dressage and broke 70% at level 3 this season. They also competed at the NZPCA Dressage Champs with their team finishing 3rd in the North Island.

For the year ahead, Nash plans to continue competing in the 1.10m to 1.15m show jumping circuit and to qualify for NZPCA Show Jumping and Dressage Champs teams. Nash plans to continue working on their level three dressage and work towards his NZPCA A & H certificates.

Nash, who is a prefect at Ruapehu Collage, has also represented his school at the national championships for both squash and snow skiing. He plans to focus on his riding after completing high school and hopes to head overseas to further his riding career.